Important features to look in a safe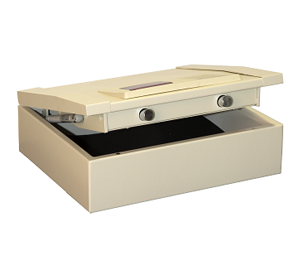 Safes have been in use for a very long time. Initially, safes had simple designs and functions with the mere purpose of keeping items safe from burglary. However, safes have evolved over time and you can now find them in a variety of designs. There is a wide range of options available in their looks, designs, functions, technology, and appropriateness. Now, you can find top-opening safes, safes with card-swipe technology, wall safes, drawer safes, and more vivid options to match your needs the best.
Modern safes are equipped with a variety of advanced features. Some of the most important features that you can look for while purchasing a safe are as follows:
While most people cannot even imagine the possibility of water damage inside their home, it is always suggested to prepare for the worst. You safe must be able to protect your precious belonging from every possible damage including water. A waterproof safe will keep your belongings protected in the situation of flooding, hurricanes, or maybe leakage. There are various methods through which water can make its way to your safe and ruin the stored items. Hence, it is better to purchase a waterproof safe that offers safety against water damage as well.
Disasters are unseen and inevitable. You would like to purchase a safe that can stand against fire, especially if the item you are storing is vulnerable to fire. People often store their valuable papers, documents, cash, and photographs in a safe that needs to be protected from fire. Hence, you must invest in fireproof safes that can stand against fire for long enough hours. It will ensure that your items are safe in case of fire until the rescue team arrives.
Safes are often installed or placed at places like under the bed or inside the closet. These places are not well lit and it could be difficult to look into the safe without proper light. Instead of depending on the flashlight, you can choose safes with an interior light. This will make your task much more convenient and you will be able to find items immediately.
What if the thief is not able to steal the item inside the safe but takes away the entire safe? This is a possible situation; hence, you can choose safes that can be bolted to the floor. This feature ensures extra safety by eliminating the chances of movement in the safe. And you can find a warranty from the safe seller for the feature to avoid any risk of damage during the bolting process.
Thieves often drop down the safes from heights like the terrace of a building or over bridge, to break open the safes. While the locks of the safes can be unbreakable for thieves, they can choose to take the safe away and drop it from a height so that the stored item is spilled out of the safe. Hence, it is important that your safe is impact-resistant and can stand against a fall from a height.
Purchase the high-featured safe and ensure the best safety and security of your precious belongings.